Technician, Mechanical (Attractions)
LOCATIONS:
Complete preventive / corrective maintenance and troubleshooting for Attractions (rides). Responsibilities
Accept technical direction from planning, technical and engineering sources and conduct and implement required actions, including preventive and Corrective maintenance activity etc.; deliver the good quality maintenance, ensure the rides safety and reliability; Carry out minor modification of rides if needed.
Cleaning of vehicles, assemblies, and components. Use tools and parts washing machines, both automated and manual, to remove greases, oils, dirt, old gaskets/silicone, and carbon buildup on automotive parts to prepare for further inspections.
Operational/Functional checks - conduct checks of systems/equipment to verify operational integrity, identify and isolate faults and discrepancies, and verify operability following maintenance actions.
Join the rides installation, testing and adjustment during the project phase, support WDI team and finish the assignment by them. Proactively learn and grasp the rides equipment and system.
Proactive to Read and understand detailed instruction, manual, drawings etc., apply it in daily maintenance.
Troubleshooting for ride failure. Support management to do RCA (Root Cause Analysis)
Prepare maintenance record to Support MAXIMO specialist, ensure correct maintenance document accurate and timely.
Basic Qualifications
Vocational school or above
Able to read schematic drawings
Available to work all shifts (i.e., 1st, 2nd, and 3rd shift), weekends and holidays as deemed required by management
Basic computer skills
Being able operate at elevated high
Preferred Qualifications
Mechanical Engineering or electromechanical is preferred
Working experience in amusement facilities and hold the certificate is preferred
5+ years working experience in mechanical maintenance; Demonstrated trouble shooting skills, as well as continuous improvement maintenance skills
Previous multinational company experience is preferred
Additional InformationWork Location:
Your work location is Shanghai Disney Resort in Chuan Sha, Pudong New Area, Shanghai.
You could take metro Line 11 to Shanghai Disney Resort.
Total Rewards: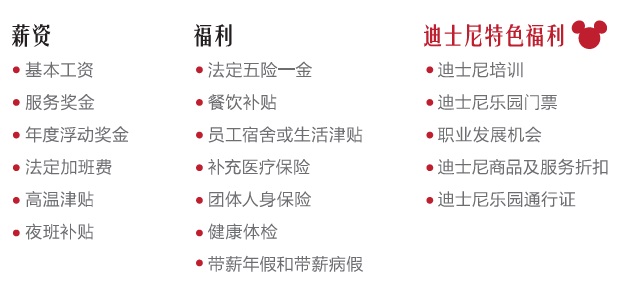 Remarks:
You may only apply once in a six month period. If you have applied within the last six months, please log in to your account to view your current application status.
We welcome disabled candidates to apply for our jobs.
About Shanghai Disney Resort:
Shanghai Disney Resort, the first Disney resort in Mainland China, is a place where friends and families can escape together to a whole new world of fantasy, imagination, creativity and adventure. The resort is home to the Shanghai Disneyland theme park, featuring six lands, as well as two themed hotels – Shanghai Disneyland Hotel and Toy Story Hotel, Disneytown, a large shopping, dining and entertainment district, a Broadway-style theatre, Wishing Star Park and other outdoor recreation areas. Shanghai Disneyland is a Magic Kingdom-style theme park featuring classic Disney storytelling and characters but with authentic cultural touches and themes tailored specifically for the people of China. As we continue to develop this magical destination, we're looking for a variety of world-class professionals including front line Cast Members and an innovative development team to help our plans take shape.
Keyword: SHDRexperienced
hotjobs

Apply now

<![if !IE]> <![endif]> <![if !IE]> <![endif]> <![if !IE]> <![endif]>