Technician, Electrician, FES
LOCATIONS:
Cast Members assigned to the Electrician position are responsible for performing: preventive maintenance, troubleshooting, repairing electrical systems/assemblies, lamping, installation of new electrical service, adding receptacles, switches, bending conduit, and resetting breakers. Responsibilities
Lamping - Initial install and replacement of defective lamps. Will carry/use common hand tools and ladders. Must be able to climb, bend, kneel, and work with hands/arms above shoulder level for extended periods of time
Preventative Maintenance - Must have technical electrical competence, able to read and understand detailed instruction, and able to pass all compliance required technical and safety training. Will walk or bicycle, kneel, bend, and climb. May push vehicles to reposition them for maintenance checks. This will entail pushing/pulling equipment less than 50 lbs., lifting tools and equipment less than 50 lbs., climbing stairs and ladders while grasping parts and tools. May work indoors or outside during inclement weather and on any shift. Requires frequent handling of powered/manual tools weighing 5-50 lbs.
Corrective maintenance of electrical distribution systems and assemblies - Requires acute troubleshooting skills, knowledge of high/low voltage, ability to use common hand tools, meters, gauges and other associated test and measurement equipment. Must possess the ability to read blueprints, flowcharts, schematics, and engineering documents
Installation of new conduits, wiring, controls, and breakers - Requires the use of basic math, ability to differentiate colors, and have understanding of the PRC Electric Code
Manage assigned workload through the use of CMMS system (MAXIMO) - Will be required to attend and pass compliance and other associated training to ensure correct maintenance documentation. Requires computer literacy. Evaluate job scope, determine needed parts/materials, and order through authorized vendors
Understand how to identify the hazard material and hazard waste during maintenance and proper treatment methods; understand the fall protection equipment and its correct selection and usage in power distribution equipment maintenance; familiar with maintenance related personal protection equipment types and the correct selection and usage; Understand various dangerous resources control during maintenance in order to prevent the damage from happening; understand the fire protection knowledge and emergency treatment knowledge in working area; familiar with the response and treatment for leakage; familiar with power distribution equipment maintenance working area safety reminder items; understand the damage and accident report and investigation process
Basic Qualifications
Vocational school or above
Hold special operating license (Electrical low voltage & high voltage)
Experience working in electrical maintenance environment with knowledge of electrical maintenance work processes, trades, tools, equipment, etc.
Over 2 years relevant working experience in electrical power distribution system and electrical equipment maintenance field
Years of field experience and good handcraft skill
Available to work weekend and holidays, all shifts (i.e., 1st, 2nd, and 3rd shift) as deemed required by management
Preferred Qualifications
Experience at Lock out Tag out procedure and process will be plus
Good communication skills
Additional InformationWork Location:
Your work location is Shanghai Disney Resort in Chuan Sha, Pudong New Area, Shanghai
You could take metro Line 11 to Shanghai Disney Resort
Total Rewards: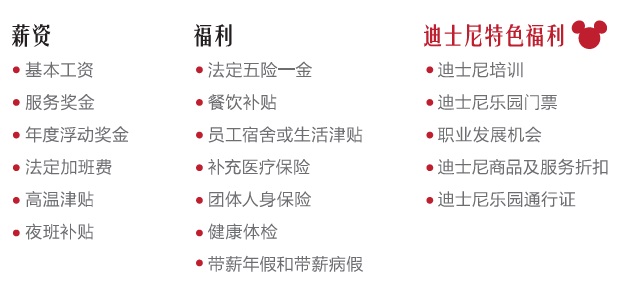 Remarks:
You may only apply once in a six month period. If you have applied within the last six months, please log in to your account to view your current application status.
We welcome disabled candidates to apply for our jobs.
About Shanghai Disney Resort:
Shanghai Disney Resort, the first Disney resort in Mainland China, is a place where friends and families can escape together to a whole new world of fantasy, imagination, creativity and adventure. The resort is home to the Shanghai Disneyland theme park, featuring six lands, as well as two themed hotels – Shanghai Disneyland Hotel and Toy Story Hotel, Disneytown, a large shopping, dining and entertainment district, a Broadway-style theatre, Wishing Star Park and other outdoor recreation areas. Shanghai Disneyland is a Magic Kingdom-style theme park featuring classic Disney storytelling and characters but with authentic cultural touches and themes tailored specifically for the people of China. As we continue to develop this magical destination, we're looking for a variety of world-class professionals including front line Cast Members and an innovative development team to help our plans take shape.
Keyword: SHDRexperienced

Apply now

<![if !IE]> <![endif]> <![if !IE]> <![endif]>