Stylist, Hair & Make-up
LOCATIONS:
Style, fit, and set wigs to an approved corporate design for characters (i.e., princesses and dancers) and other performers as directed.
Responsibilities
Ability to wash and set wigs and recreate a style from a photo in a clear and defined manner.
Preset selected show wigs. Ability to work pin-on and retouches for parades, shows and venues.
Demonstrate a working knowledge and appropriate use of hair styling tools.
Work with synthetic and human hair wigs.
Show wigs may involve period looks.
Other assigned tasks
Frequently access variety of styling chemical materials (shampoo etc.) .

Basic Qualifications
One year or above related working experience
Demonstrated experience with different hair-styling equipment
Understanding of different techniques used for natural vs synthetic hair wigs
Experience with different wig fitting techniques
Fluent in Mandarin
Must provide full availability for ongoing training throughout a two month period
Must be available to work all peak seasons, and holidays
Available to work nights and flexible shift times
Additional InformationPlease note:
Shanghai Disney Resort will not authorize anyone or any third party to charge candidate. Please always reach to our official channels or platforms for recruitment relevant information.
Work Location:
Your work location is Shanghai Disney Resort in Chuan Sha, Pudong New Area, Shanghai.
You could take metro Line 11 to Shanghai Disney Resort.

Total Rewards: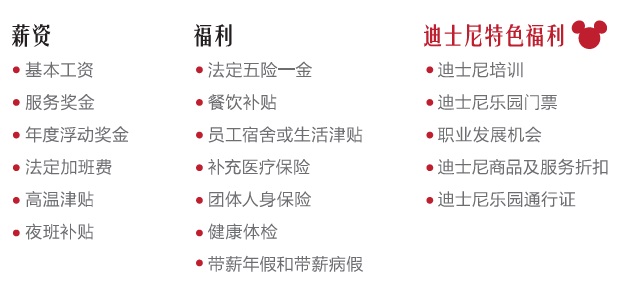 Remarks:
You may only apply once in a six month period. If you have applied within the last six months, please log in to your account to view your current application status
We welcome disabled candidates to apply for our jobs
About Shanghai Disney Resort:
Shanghai Disney Resort, the first Disney resort in Mainland China, is a place where friends and families can escape together to a whole new world of fantasy, imagination, creativity and adventure. The resort is home to the Shanghai Disneyland theme park, featuring six lands, as well as two themed hotels – Shanghai Disneyland Hotel and Toy Story Hotel, Disneytown, a large shopping, dining and entertainment district, a Broadway-style theatre, Wishing Star Park and other outdoor recreation areas. Shanghai Disneyland is a Magic Kingdom-style theme park featuring classic Disney storytelling and characters but with authentic cultural touches and themes tailored specifically for the people of China. As we continue to develop this magical destination, we're looking for a variety of world-class professionals including front line Cast Members and an innovative development team to help our plans take shape.


Keyword: SHDRexperienced

Apply now

<![if !IE]> <![endif]> <![if !IE]> <![endif]> <![if !IE]> <![endif]>