Maintenance Base Operator
LOCATIONS:
The Maintenance Base team is the role of receiving, triaging and responding maintenance service requests via radio and telephone from Cast Members (CM). Also, they will document and enter data into automated database, follow-up and report the work status as well produce necessary reports.
Responsibilities
Handle calls requesting for maintenance support related to facility services and attraction/ride systems, or other business lines in the park.
Coordinate with other departments to take follow-up/repair actions, as well as coordinate vendor and contractor support the follow-up/repair actions.
Monitor various facilities related systems (MAXIMO, MAD, handhelds).
Data entry for job orders, and work dispatching.
Report the work status as the management requirement. And prepare daily report for management review.
Basic Qualifications
vocational school degree or above
Fluent in English
Available to work third-shift work and/or working on weekend days
Literate in MS Office applications
Good telephone manner and attitude, strong organization record keeping skills to correctly document and report active and completed maintenance actions
Preferred Qualifications
Major in mechanical, electrical, architecture or automation is preferred;
College graduate plus two years related work experience;
Or vocational school plus five years related work experience.
Additional Information
Work Location:
Your work location is Shanghai Disney Resort in Chuan Sha, Pudong New Area, Shanghai.

You could take metro Line 11 to Shanghai Disney Resort.
Total Rewards: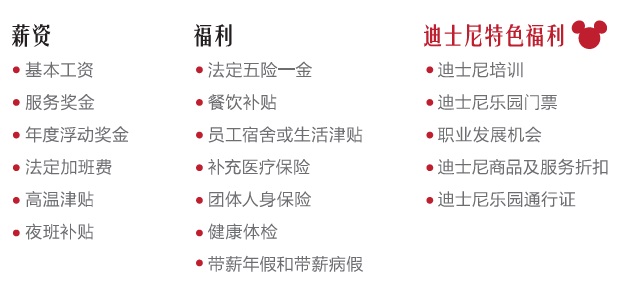 Remarks:
You may only apply once in a six month period. If you have applied within the last six months, please log in to your account to view your current application status.
We welcome disabled candidates to apply for our jobs.
About Shanghai Disney Resort:
Shanghai Disney Resort, the first Disney resort in mainland China, is a place where friends and families can escape together to a whole new world of fantasy, imagination, creativity, and adventure. The resort is home to the Shanghai Disneyland theme park, two themed hotels – Shanghai Disneyland Hotel and Toy Story Hotel, Disneytown, a large shopping, dining and entertainment venue, a Broadway-style theatre, Wishing Star Park and other outdoor recreation areas. Shanghai Disneyland is a Magic Kingdom-style theme park featuring classic Disney storytelling and characters but with authentic cultural touches and themes tailored specifically for the people of China. As we continue to grow and create this magical destination, we are looking for a variety of world-class professionals to help our plans take shape.
Keyword: shdrcasting
#LI-DNP
Apply now
Join our Talent Community
See the latest jobs, news and events by joining our talent community:
Job Locations
{{alert.msg}}
Comments
<![if !IE]> <![endif]> <![if !IE]> <![endif]> <![if !IE]> <![endif]>