Host/Hostess, VIP Reservation Center
LOCATIONS:
At the Shanghai Disney Resort, Guests have the opportunity to experience not only our magical Park and Resort Hotels, but our legendary service as well. Their experience begins with their very first phone call to a VIP Reservation Center Host. This sales and service focused role provides personalized assistance to Guests and promotes the purchase of products and services for the Guest's visit. Additionally VIP Reservation Center Hosts provide information to help Guests with questions about Shanghai Disney Resort and make their visit as magical as possible.
Responsibilities
Services incoming calls from Guests
Provide excellent Guest service through personalized conversation over the phone
Process orders and reservations for Guests
Discuss detailed information about Shanghai Disney Resort
Assist Guests in planning their visit to Shanghai Disney Resort
Knowledgeable and up-to-date with Shanghai Disney Resort products and services
Sales focused interactions that drive revenue
Basic Qualifications
Strong service and consultative skills
Ability to be comfortable with asking questions and explaining product options
Passionate for delivering excellent services
Good problem solving skill and ability to think on your feet in various guest situations
Strong computer proficiency, including typing skills and the ability to navigate through multiple computer systems
Knowledgeable in computer programs (Word, Excel, PowerPoint, Outlook)
Fully available for any shift, seven (7) days per week, including nights, weekends, and holidays
You will need to successfully complete and pass all job related training after onboard
Preferred Qualifications
Fluent in other languages, Shanghainese speaker preferred
Required Education
Preferred Education
Major in Tourism Management/ Hotel Management/ Public Relation is preferable
Additional InformationPlease note:
Shanghai Disney Resort will not authorize anyone or any third party to charge candidate. Please always reach to our official channels or platforms for recruitment relevant information.
Work Location:
Your work location is Shanghai Disney Resort in Chuan Sha, Pudong New Area, Shanghai.
You could take metro Line 11 to Shanghai Disney Resort.
Total Rewards: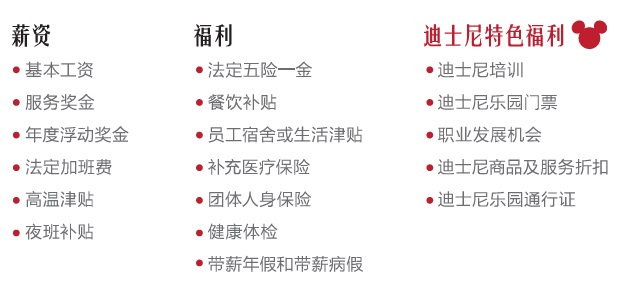 Remarks:
You may only apply once in a six month period. If you have applied within the last six months, please log in to your account to view your current application status.
We welcome disabled candidates to apply for our jobs.
About Shanghai Disney Resort:
Shanghai Disney Resort, the first Disney resort in mainland China, is a place where friends and families can escape together to a whole new world of fantasy, imagination, creativity, and adventure. The resort is home to the Shanghai Disneyland theme park, two themed hotels – Shanghai Disneyland Hotel and Toy Story Hotel, Disneytown, a large shopping, dining and entertainment venue, a Broadway-style theatre, Wishing Star Park and other outdoor recreation areas. Shanghai Disneyland is a Magic Kingdom-style theme park featuring classic Disney storytelling and characters but with authentic cultural touches and themes tailored specifically for the people of China. As we continue to grow and create this magical destination, we are looking for a variety of world-class professionals to help our plans take shape.


Keyword: SHDRexperienced
SHDRENG

Apply now

<![if !IE]> <![endif]> <![if !IE]> <![endif]> <![if !IE]> <![endif]>