Host/Hostess, Merchandise (Front of House &Heart of House)
LOCATIONS:
Host/Hostess for Store operations (Merchandise) is responsible for greeting and interacting with our guests in a positive and friendly manner following the guest service model; Host/Hostess for Heart of House (Merchandise) is responsible for merchandise management, transfer, receiving and storage. Responsibilities
As greeter, cashier, host/hostess for customization service, stock helper, visual merchandise assistant and others in Front of House. Offer additional merchandise to go with their selection to enrich guests' shopping experience. Rotate in different roles according to scheduling within one day
As receiver, floor stocker, runner, ICS (inventory controlling specialist) and guest-facing Cast in Back of House
Process all transactions in a friendly and efficient manner
Basic Qualifications
One year and above experience of guest-facing position in one company (retailing, F&B, hotels, etc.)
Be able to work in multiple Store locations throughout the Resort, indoor or outdoor, sometimes in hot or cold environment
Strong verbal communication skills (able to positively engage with Guests, team members and management)
Excellent service sense to proactively fix problems for guests
Working Schedule: Shanghai Disney Resort Cast Members might be scheduled to work shifts on nights, weekends and holidays. Flexible/adaptable (be able to work at variable time, including early morning, late evening, weekends and holidays)
Preferred Qualifications
Working experience in merchandise is preferred
Additional InformationPlease note:
Shanghai Disney Resort will not authorize anyone or any third party to charge candidate. Please always reach to our official channels or platforms for recruitment relevant information.
Work Location:
Your work location is Shanghai Disney Resort in Chuan Sha, Pudong New Area, Shanghai
You could take metro Line 11 to Shanghai Disney Resort
Total Rewards: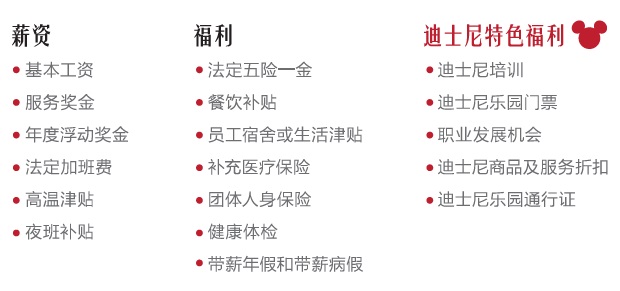 Remarks:
You may only apply once in a six month period. If you have applied within the last six months, please log in to your account to view your current application status.
We welcome disabled candidates to apply for our jobs.
About Shanghai Disney Resorts:
Shanghai Disney Resort, the first Disney resort in Mainland China, is a place where friends and families can escape together to a whole new world of fantasy, imagination, creativity and adventure. The resort is home to the Shanghai Disneyland theme park, featuring six lands, as well as two themed hotels – Shanghai Disneyland Hotel and Toy Story Hotel, Disneytown, a large shopping, dining and entertainment district, a Broadway-style theatre, Wishing Star Park and other outdoor recreation areas. Shanghai Disneyland is a Magic Kingdom-style theme park featuring classic Disney storytelling and characters but with authentic cultural touches and themes tailored specifically for the people of China. As we continue to develop this magical destination, we're looking for a variety of world-class professionals including front line Cast Members and an innovative development team to help our plans take shape.


Keyword: SHDRexperienced

Hotjobscomm

Apply now

<![if !IE]> <![endif]> <![if !IE]> <![endif]> <![if !IE]> <![endif]>