Host/ Hostess, Houseperson
LOCATIONS:
Within a core department, Houseperson will be responsible for overall cleaning and maintenance of guest rooms and replenishing items such as linens, amenities and various supplies. Location to include but not limited to: Cleaning Guest corridors, windows, carpets, backstage linen and storage rooms and maintaining supply inventories.
Responsibilities
Daily Tasks include some or all of the following: Taking inventory of Guest supplies, delivering requested items to the Guests room, picking up and delivering Guests' valet laundry
Timely trace the status of assigned rooms and finish the work sheet
Provides deep cleaning of Guest corridors and carpeted areas
Takes inventory in the linen closet of guest supplies
Solve the problems and answer guests' questions if necessary
Basic Qualifications
Good communication skills and service mindset
Can accept repetitive indoor room cleaning responsibilities
Can work in a very fast-paced environment with a heavy workload
Have to work with chemicals and cleaning materials (cleaning supplies and equipment)
Working Schedule: Shanghai Disney Resort Cast Members might be scheduled to work shifts on nights, weekends and holidays. (can work three shifts)
Additional InformationPlease note:
Shanghai Disney Resort will not authorize anyone or any third party to charge candidate. Please always reach to our official channels or platforms for recruitment relevant information.
Work Location:
Your work location is Shanghai Disney Resort in Chuan Sha, Pudong New Area, Shanghai.
You could take metro Line 11 to Shanghai Disney Resort.
Total Rewards: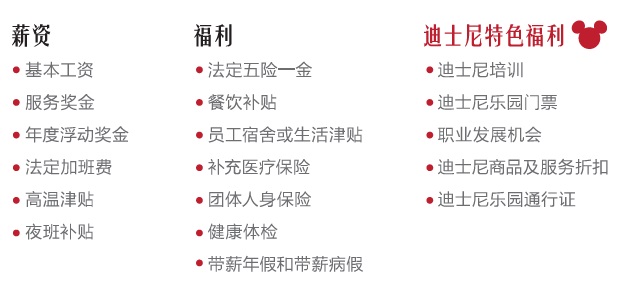 Remarks:

You may only apply once in a six month period. If you have applied within the last six months, please log in to your account to view your current application status
We welcome disabled candidates to apply for our jobs
About Shanghai Disney Resort:
Shanghai Disney Resort, the first Disney resort in Mainland China, is a place where friends and families can escape together to a whole new world of fantasy, imagination, creativity and adventure. The resort is home to the Shanghai Disneyland theme park, featuring six lands, as well as two themed hotels – Shanghai Disneyland Hotel and Toy Story Hotel, Disneytown, a large shopping, dining and entertainment district, a Broadway-style theatre, Wishing Star Park and other outdoor recreation areas. Shanghai Disneyland is a Magic Kingdom-style theme park featuring classic Disney storytelling and characters but with authentic cultural touches and themes tailored specifically for the people of China. As we continue to develop this magical destination, we're looking for a variety of world-class professionals including front line Cast Members and an innovative development team to help our plans take shape.
Keyword: SHDRexperienced

Apply now

<![if !IE]> <![endif]> <![if !IE]> <![endif]> <![if !IE]> <![endif]>