Host/ Hostess, Front Desk
LOCATIONS:
Front Desk Cast Members will welcome and assist guest with the check-in registration process by providing a world-class arrival. General duties may include cash handling, check- in and check- out, answering telephones, and any general guest service issues. Responsibilities
Update guest history and input registration and billing information in Opera system
Be familiar with hotel room configuration, different room rates and promotions, be clear about current overall room status
Know how to use Pose and currency count machine for transaction with guest card and cash
Keep interaction with guests, deliver Q&A like figure out direction and information
Basic Qualifications
Good Chinese and English Listening/ Speaking/ Reading/ Writing and good computer skills
Can work in a very fast paced environment and under heavy pressure
Can deal with large amount of card and cash transaction with high integrity
Protect guest privacy
Working Schedule: Shanghai Disney Resort Cast Members might be scheduled to work shifts on nights, weekends and holidays. (can work three shifts)
Preferred Qualifications
Previous Front Desk experience in four or five- star hotels is preferred
Additional InformationPlease note:
Shanghai Disney Resort will not authorize anyone or any third party to charge candidate. Please always reach to our official channels or platforms for recruitment relevant information.
Work Location:
Your work location is Shanghai Disney Resort in Chuan Sha, Pudong New Area, Shanghai.
You could take metro Line 11 to Shanghai Disney Resort.
Total Rewards: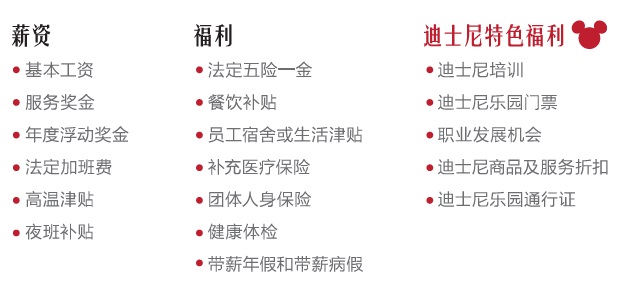 Remarks:
You may only apply once in a six month period. If you have applied within the last six months, please log in to your account to view your current application status
We welcome disabled candidates to apply for our jobs
About Shanghai Disney Resort:
Shanghai Disney Resort, the first Disney resort in Mainland China, is a place where friends and families can escape together to a whole new world of fantasy, imagination, creativity and adventure. The resort is home to the Shanghai Disneyland theme park, featuring six lands, as well as two themed hotels – Shanghai Disneyland Hotel and Toy Story Hotel, Disneytown, a large shopping, dining and entertainment district, a Broadway-style theatre, Wishing Star Park and other outdoor recreation areas. Shanghai Disneyland is a Magic Kingdom-style theme park featuring classic Disney storytelling and characters but with authentic cultural touches and themes tailored specifically for the people of China. As we continue to develop this magical destination, we're looking for a variety of world-class professionals including front line Cast Members and an innovative development team to help our plans take shape.


Keyword: SHDRexperienced
Hotjobs
SHDRENG

Apply now

<![if !IE]> <![endif]> <![if !IE]> <![endif]> <![if !IE]> <![endif]>