Host/Hostess, Concierge
LOCATIONS:
Keep interaction with guests, answer questions, provide direction and park information including but not limited to Newspapers/Mailing/Courier/Ticketing/F&B booking/Limousine Reservation/F&B voucher issuing/other items such as flowers, gifts, cake and etc. When needed, to help with the luggage counter operations and have basic computer operation skills.
Responsibilities
Greet and approach Guests to offer assistance
Provide excellent and magic guest experience every day by interacting with guests, sharing information, answering questions, and helping guests
Always keeping safety as a primary focus
Cleaning and maintaining the hotel property's on stage and back stage locations
Deliver high quality services to guests in an efficient manner and help the hotel run smoothly and efficiently
Meet attendance and scheduling availability guidelines, adhere to leave application procedures
Share Resort information & promote synergy
Help multiple Guests
Basic Qualifications
Flexible/adaptable (be able to work at variable time, including early morning, late evening, weekends and holidays)
Be familiar with computer skills
Service sense to proactively fix problems for guests
Good team player
Strong ability to converse in Mandarin & English. Be willing and able to learn skills and knowledge, including some communication skills with non-Chinese speaking Guests
Good communication skills and service sense
Ability to reflect a professional image while maintaining guest privacy
You will need to successfully complete and pass all job related training after onboard
Accept the position change or other work responsibility assigned by the leaders
Must hold the required certificates of the position, including but not limited to health certificate, and other career certificates
Observe the Company's occupational health management policies and operation procedures, properly use and maintain occupational hazard prevention facilities and personal protective equipment, actively participate in occupational health training and take pre-work, during-work and exit occupational medical check as required

Additional InformationPlease note:
Shanghai Disney Resort will not authorize anyone or any third party to charge candidate. Please always reach to our official channels or platforms for recruitment relevant information.
Work Location:
Your work location is Shanghai Disney Resort in Chuan Sha, Pudong New Area, Shanghai.
You could take metro Line 11 to Shanghai Disney Resort.
Total Rewards: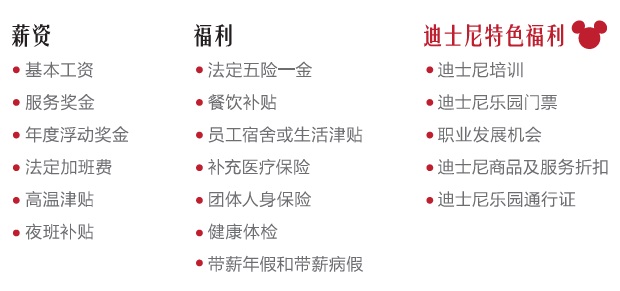 Remarks:
You may only apply once in a six month period. If you have applied within the last six months, please log in to your account to view your current application status.
We welcome disabled candidates to apply for our jobs.
About Shanghai Disney Resort:
Shanghai Disney Resort, the first Disney resort in Mainland China, is a place where friends and families can escape together to a whole new world of fantasy, imagination, creativity and adventure. The resort is home to the Shanghai Disneyland theme park, featuring six lands, as well as two themed hotels – Shanghai Disneyland Hotel and Toy Story Hotel, Disneytown, a large shopping, dining and entertainment district, a Broadway-style theatre, Wishing Star Park and other outdoor recreation areas. Shanghai Disneyland is a Magic Kingdom-style theme park featuring classic Disney storytelling and characters but with authentic cultural touches and themes tailored specifically for the people of China. As we continue to develop this magical destination, we're looking for a variety of world-class professionals including front line Cast Members and an innovative development team to help our plans take shape.
Keyword: SHDRexperienced

Apply now

<![if !IE]> <![endif]> <![if !IE]> <![endif]> <![if !IE]> <![endif]>