Goods Receiver / Dispatcher
LOCATIONS:
Goods Receiver/Dispatcher is to assist the Food & Beverage Team in ordering, receiving, storing, inventorying and managing the food and kitchen supplies. This role is responsible for his/her work entrusted with, to be motivated and able to work within a small team, also need to maintain and rotate food stock properly without any spoilage, wastage and short supply. It requires fast paced environment, working under different temperature condition (Freezers, Fridges). Responsibilities
To assist purchasing manager in processing the purchase orders in a timely manner.
To monitor, check and follow up according to the purchase order on punctual delivery of goods, right quantity, quality and established specifications.
To store and manage the goods received and Dispatch properly as directed by Executive chef and Receiving Manager. Maintain FIFO in kitchens and monitor par levels.
To pass on received goods to the chefs in good (Top) condition.
To perform other duties assigned by the Receiving Manager.
To perform data input of daily goods received and goods transferred in a timely manner.
Basic Qualifications
High school or relevant education.
1-2+ years culinary experience.
Basic knowledge of food products.
Strong Computer skill.
Have completed a 6 months Hospitality Industry Training.
Able to communicate in English.
Should be willing to learn and adapt well to new challenges
Has to be motivated.
Has to get along with fellow cast members in a fast pasted environment.
You shall obtain certificate/qualification(s) required for performing the job, and complete and pass all post-employment trainings and assessments (including but not limited to On-Job-Training)
Additional InformationPlease note:
Shanghai Disney Resort will not authorize anyone or any third party to charge candidate. Please always reach to our official channels or platforms for recruitment relevant information.
Work Location:
Your work location is Shanghai Disney Resort in Chuan Sha, Pudong New Area, Shanghai.
You could take metro Line 11 to Shanghai Disney Resort.
Total Rewards: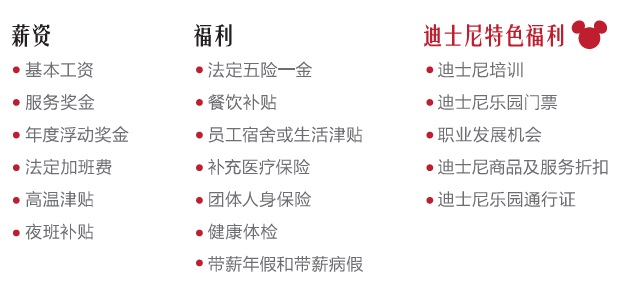 Remarks:
You may only apply once in a six month period. If you have applied within the last six months, please log in to your account to view your current application status.
We welcome disabled candidates to apply for our jobs.
About Shanghai Disney Resort:
Shanghai Disney Resort, the first Disney resort in Mainland China, is a place where friends and families can escape together to a whole new world of fantasy, imagination, creativity and adventure. The resort is home to the Shanghai Disneyland theme park, featuring six lands, as well as two themed hotels – Shanghai Disneyland Hotel and Toy Story Hotel, Disneytown, a large shopping, dining and entertainment district, a Broadway-style theatre, Wishing Star Park and other outdoor recreation areas. Shanghai Disneyland is a Magic Kingdom-style theme park featuring classic Disney storytelling and characters but with authentic cultural touches and themes tailored specifically for the people of China. As we continue to develop this magical destination, we're looking for a variety of world-class professionals including front line Cast Members and an innovative development team to help our plans take shape.
Keyword: SHDRexperienced

Apply now

<![if !IE]> <![endif]> <![if !IE]> <![endif]> <![if !IE]> <![endif]>